Die Show wird aus dem Huxleys ins Metropol verlegt. Alle Tickets behalten ihre Gültigkeit. Metropol Berlin, Nollendorfplatz 5, D-10777 Berlin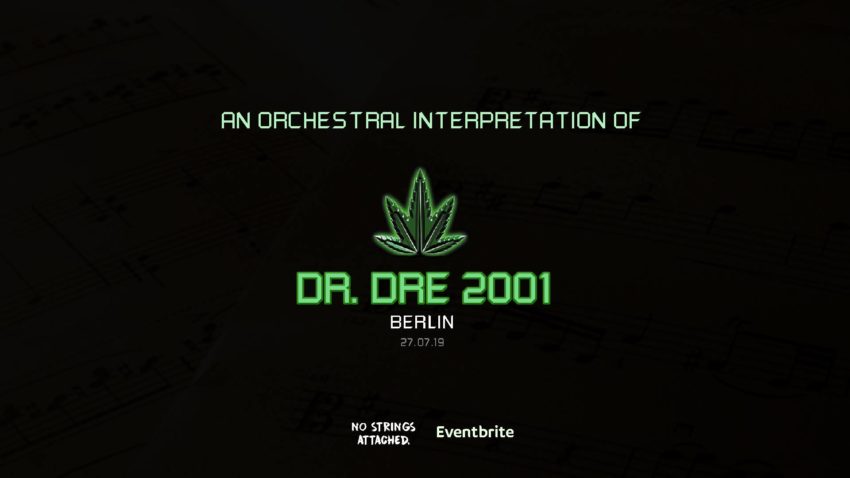 Details
Datum: 27.07.2019
Beginn: 19:00
"We are excited to announce that we will be moving the Orchestral Rendition of Dr Dre to the grand historic venue The Metropol Berlin for it's official re-launch week!
We can't wait to perform in this nostalgic venue where iconic stars such as David Bowie, Joe Cocker, Depeche Mode, The Cure, Iggy Pop, Morrissey and Scorpions have performed! 
Thank you to Huxleys Neue Walt for the opportunity to let us perform this show at the amazing https://metropol-berlin.de/

Less than 100 Tickets remaining bit.ly/BerlinDre "
---
No Strings Attached are pleased to present that we're back with our LIVE Orchestral Rendition of:
DR. DRE : 2001
This body of work features so many intricate musical layers, we have brought in one of the UK's leading Orchestras to perform a complete rendition of the album and some of Dre's west coast classics from start to finish.
Accompanied by DJ's, singers, and lyricists – this is not your average Orchestral event.
This is no ordinary Orchestral event. Expect a full standing crowd, with performances from various DJ's, lyricists and singers as well as a full Orchestral Rendition of Dr. Dre's: 2001 album, followed by other of Dre's west coast classics.
This is the combination of a traditional Orchestra merging with a modern live hip-hop music event.
We're extremely excited to bring this production to Berlin.
Tickets available HERE ? https://www.eventbrite.co.uk/e/an-orchestral-rendition-of-dr-dre-2001-berlin-tickets-55507644860
Note: Dr Dre will not be attending this event. This is an orchestral rendition event performing covers and renditions. This is a standing event.
Sign up for future events here: www.nostringsattachedevents.com