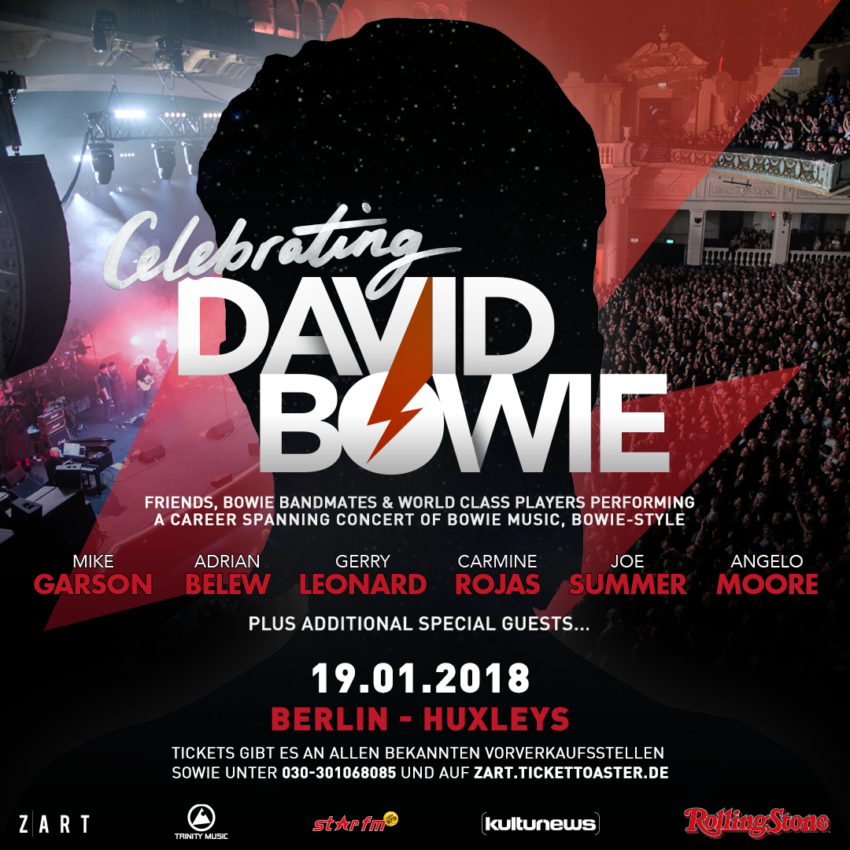 Details
Datum: 19.01.2018
Beginn: 20:00
Einlass: 19:00
VVK: 33,00 € (zzgl. Gebühr)
Website: http://celebratingdavidbowie.com/
Video: Auf Youtube ansehen
Nachdem es bereits Anfang diesen Jahres von Kritikern und Publikum gefeierte Shows gab, wird 'Celebrating David Bowie' in 2018 mit einer Tour durch Europa und Nordamerika zurück auf die Bühne kehren. Mit dabei haben sie eine brandneue Show, in deren Mittelpunkt die Frage steht: 'Wie würde David Bowies Tour Setlist in 2018 aussehen?'.
'Celebrating David Bowie' versteht sich als mehr als eine bloße Homage an diesen so besonderen Musiker. 'Celebrating David Bowie' erhält vielmehr seine Musik lebendig. Musiker mit denen David Bowie im Laufe seiner Karriere eng zusammengearbeitet hat sowie Musiker die stark von ihm beeinflusst wurden stehen gemeinsam auf der Bühne und performen seine Songs.
Mike Garson, legendärer Live- & Studio-Keyboarder von Bowie und zudem sein längster musikalischer Wegbegleiter wird zusammen mit den ehemaligen Haupt-Bandmitgliedern Adrian Belew an den Vocals und Gitarre (Sound & Vision Tour) und dem Gitarissten Gerry Leonard (A Reality Tour) das Ganze anführen. Insgesamt können die 3 auf nicht weniger als über 30 gemeinsamen Jahre mit Bowie zurückblicken.
Mike, Adrian und Gerry werden zudem von Bowies 'Let's Dance/ Serious Moonloght' Tour Bassisten Carmine Rojas sowie Fishbones Angelo Moore und den Grammy nominierten Gaby Moreno begleitet. Neben dieser hochkarätigen Besetzung wird es als weiteres Highlight Auftritte von Special Guests und weiteren ehemaligen Bandmitgliedern geben.
Angelo Bundini, Schöpfer und Produzent von 'Celebrating David Bowie' ist ebenfalls wieder dabei und freut sich auf das neue Konzept der Show: "After the last tour, I didn't really imagine playing more shows because it was insanely difficult to pull off. David's last tour was in 2004, so I began to wonder what he might do if he were to tour again today. That's what we're presenting in 2018."
Das große, wechselnde Ensemble, bestehend aus weltklasse Multiinstrumentalisten, wird eine Show aufführen die alle Elemente die Bowie beeinflussten und die er im Gegenzug ebenso beeinflusste in den Fokus rücken: experimentelle Popkultur, Kunst, Mode, Wissenschaft und Futurismus.
Bisherige Special Guests waren u.a.: Sting, Gary Oldman, Seal, Perry Farrell, The B-52's' Kate Pierson, Ewan McGregor, Simon Le Bon, Gavin Rossdale, La Roux, Joe Elliott, Mr Hudson, Gail Ann Dorsey, Spandau Ballet's Steve Norman, Corey Taylor, Ian Astbury, Darren Criss, Tony Hadley, Living Colour, The London Community Gospel Choir und The Harlem Gospel Choir.
Quotes:
"The shows had a magic because our intent was to celebrate David with as much love and respect as we could. So many lovely artists from all around the globe contributed and I loved all seven shows as each musician and artist brought their own way of self expression." – Mike Garson, 2017
Mike Garson: "I have worked with over 1000 singers but never anyone like David.He had an infinite source of music flowing through him, and his creativity was boundless. His sharing of the stage with his musicians was extraordinary, and he was a team player. That is why we need many singers to encompass his work."
"With such a large catalog to choose from, different songs affected us and the audience in varying measure," Adrian Belew über die vergangenen Shows "It's always amazing to feel the excitement of an audience beamed directly at you. Pure adrenaline! So much love for David."
Fishbones Angelo Moore: "One of the things that stuck out while abroad was our group visit to the David Bowie Is… exhibit in Tokyo and how they cover so much of his life, music, fashion, and creative processes. I'm excited we will be doing more of his unique aesthetic in our upcoming shows."
Gaby Moreno: "It was an incredible and emotional ride for me. Sharing the stage with some of the most brilliant musicians, playing these iconic songs from one of the best artists this world gave us, is something quite unlike anything else I've ever experienced."