Vom 12.06.2021 und 17.03.2022 auf den 12.09.2022 verschoben! Bereits gekaufte Tickets behalten ihre Gültigkeit.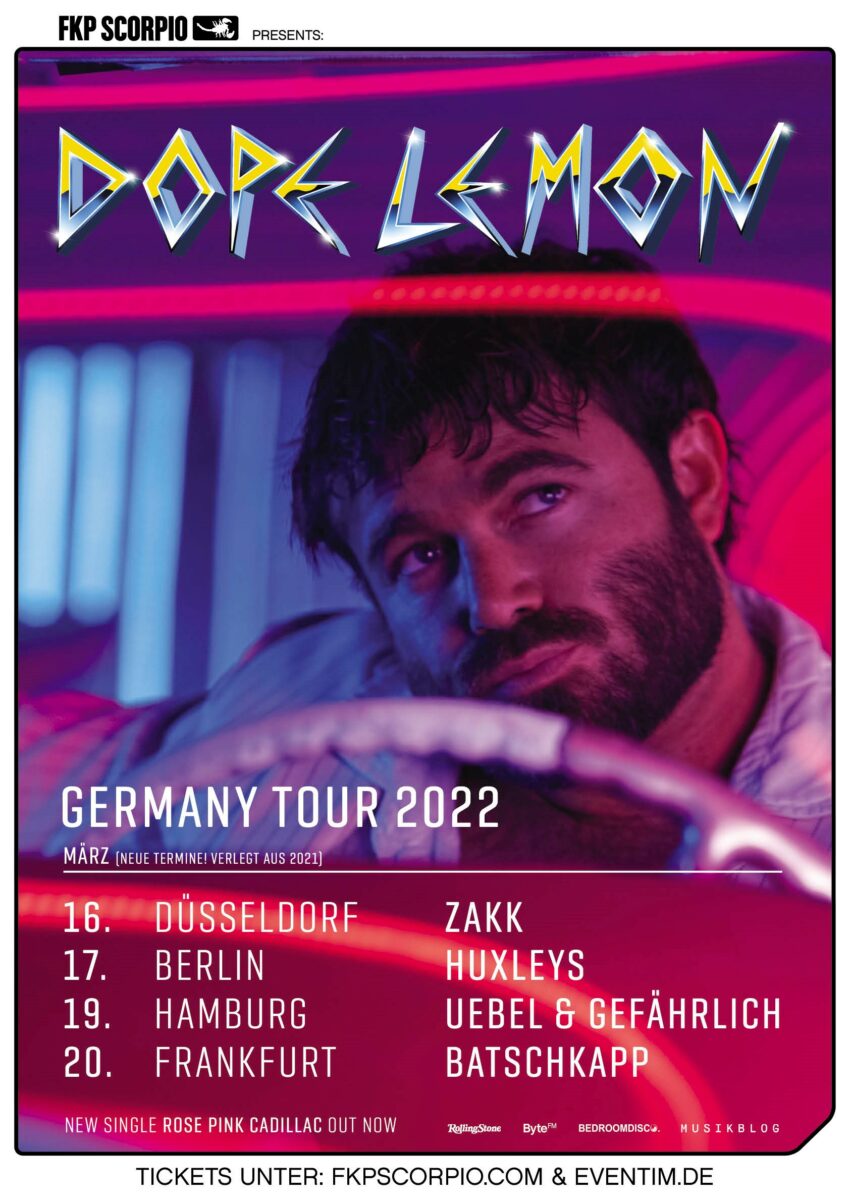 Details
Datum: 12.09.2022
Beginn: 20:00
Einlass: 19:00
Website: https://www.dopelemon.com/
Video: Auf Youtube ansehen
To begin a dope lemon disclaimer… The recommended way to listen to smooth big cat is whiskey in one hand, smoke in the other.
Deep in northern new south wales wilderness, down the dusty road from angus stone's lush, secluded ranch, lives the tale of the smooth big cat.
A mystical creature of leisure, the smooth big cat likes to stay up late drinking whiskey with his rascally mates listening to records. He doesn't have stakes in the troubles of the world, and his life is guided by the mood of the breeze & what's there in front of him. When you're feeling lost or a shade of blue, you can look to the smooth big cat, and he'll point you down the road you want to travel. Just as in his
uncertain times, angus looks to the smooth big cat for guidance in the cheeky world he walks in . The smooth big cat in angus' mind is the chairman of the board if you fancy.
When it came time for angus to name his long-awaited new dope lemon record, there was no other choice than to name it after the master who had sailed him through those midnight melting eves you very much feel with this album.
It took angus three months in the studio to write and record this. So say hello to smooth big cat: a record with all the swagger, wit and vibe of its namesake.
Smooth big cat has been a long time coming. It's been two years since hounds tooth, the last dope lemon ep, and a full three since honey bones, angus' instant-classic debut.
Listeners have streamed honey bones 100 million times and have witnessed dope lemon become not just a melting curio of artistic
experimentation, but into a fully-fledged cultural phenomenon.
Many have been waiting a long time to see what angus has been creating at belafonte, the studio on his ranch and now, finally, smooth big cat prowls onto the public stage within a cloud of mischief and romance.
Smooth big cat isn't like any other dope lemon record, but sure as smokey hell it is a dreamy zone the listener is dropped into. This is dope lemon squeezed to pure juice, distilled to a nectar fit for the gods, sweet on everyone's lips. Angus played every instrument on the record, produced and mixed every song. And, rather than pull from the shoebox of song ideas he had tucked away, this record was something that spilled out naturally when he stepped into the studio.
Because of that, smooth big cat coasts. It's a long, peachy ride in an 80s cadillac limousine, like the one angus rode to his studio while working on the record. It is beers around the pool table at midnight. It is angus' real world. Smooth big cat is that blue moon music, songs for when the eve is about to turn into something special. Music to enhance your moment, a record for wild hearted escapades and fuzzy, melty moments laying back on the rug.
Enjoy