Vom 06.02.2023 auf den 30.05.2023 verschoben. Bereits gekaufte Tickets behalten ihre Gültigkeit.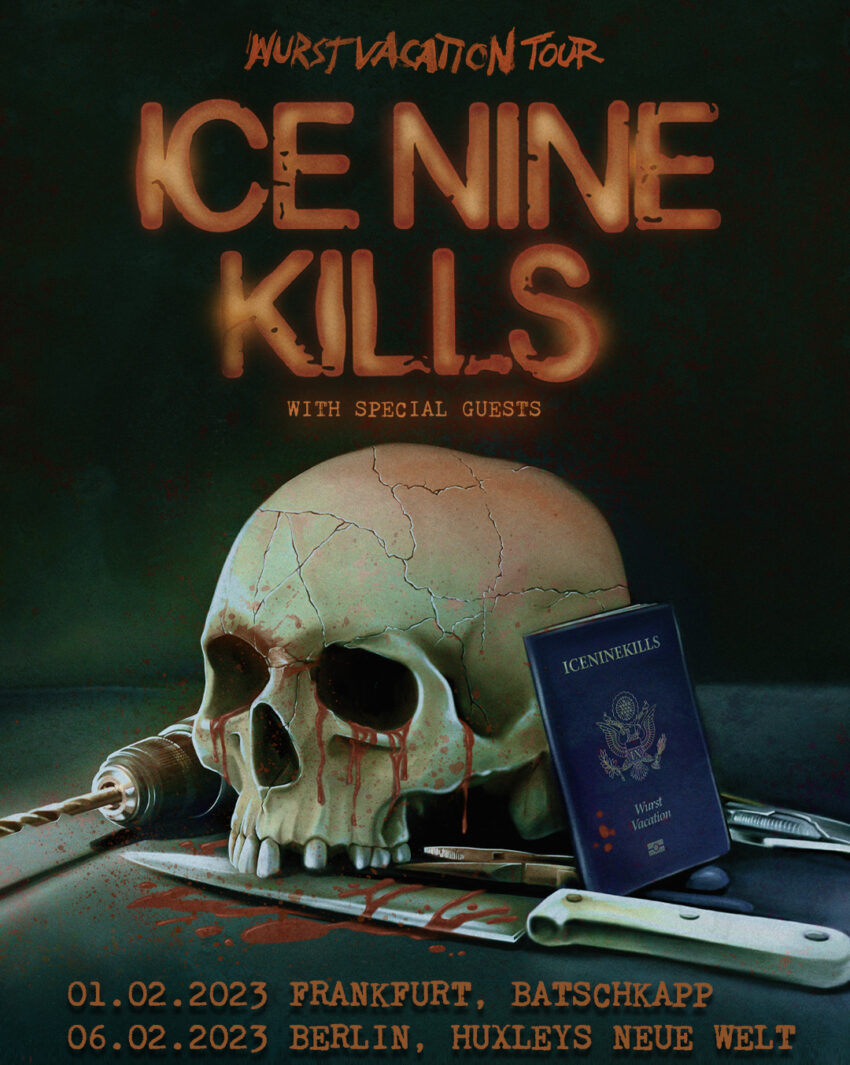 Details
Datum: 06.02.2023
Beginn: 20:00
Einlass: 19:00
Website: https://iceninekills.com/
Like the undead slashers celebrated in their songs, ICE NINE KILLS return with The Silver Scream 2: Welcome to Horrorwood, a sequel of gruesome movie-sized proportion to their No. 1 Billboard Hard Rock Album, The Silver Scream. Welcome to Horrorwood carves out a fresh, bloody homage to the VHS celluloid classics that possessed singer Spencer Charnas at an early age, with a devilish new twist.
ICE NINE KILLS make music both timeless and timely, mixing metal, hardcore, and punk, with accessible power. New hard-rock-and-horror anthems like "Hip to be Scared," "Assault & Batteries," "Take Your Pick," and "Farewell II Flesh" demonstrate Spencer's fascination with fright, pop culture obsession, and his expertise with inescapably wicked melodic hooks and clever twists of phrase.
Drew Fulk (A Day To Remember, As I Lay Dying, Emmure) produced The Silver Scream and returned for Welcome to Horrorwood. Album guests include Jacoby Shaddix (Papa Roach), George "Corpsegrinder" Fisher (Cannibal Corpse), Brandon Saller (Atreyu), Ryan Kirby (Fit For A King), and Buddy Nielsen (Senses Fail). The album mixes the melodies, riffs, and wit that are the band's signature, as heard in the Top 10 Mainstream Rock single "A Grave Mistake" and Top 20 hit "Savages."
Dan Sugarman (guitar/vocals), Ricky Armellino (guitar/vocals), Patrick Galante (drums), and Joe Occhuiti (bass/vocals) are the current co-conspirators behind Charnas, who founded the band as a teen in the early 2000s. Decadent, devious, and fiercely insane, ICE NINE KILLS celebrate pop culture's darkest edges, mining a cinephile library's worth of iconic horror on The Silver Scream and The Silver Scream 2. The creative marriage made in hell of music and fiction began in earnest with the Top 5 Hard Rock album, Every Trick in the Book, which brought the previous three records' themes to new levels.
Loudwire hails ICE NINE KILLS as "one of the most unique acts in metal right now." The band's synergy of music and lifestyle draws favorable comparisons to Slipknot and Rob Zombie. Visionary trailblazers and multimedia raconteurs, INK built a thrilling world for a growing legion of devoted true believers, with theatrical shows, high-concept videos, and inventive band-to-fan communion.