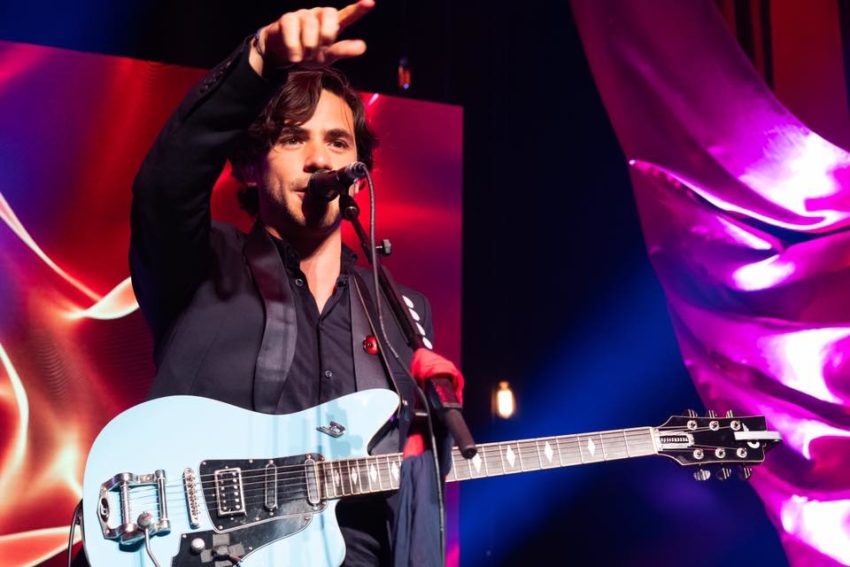 Details
Datum: 12.05.2019
Beginn: 20:00
Einlass: 19:00
VVK: 27,00 € (zzgl. Gebühr)
Website: www.jacksavoretti.com
Video: Auf Youtube ansehen
Sometimes you don't know what your story is until you step away from the page. With Jack Savoretti's last album, 2015's 100,000 selling Written In Scars, it was clear. Having been feted as the next big thing as a 20-year-old singer-songwriter, Savoretti quickly realised that the people around him didn't share his vision for what his songs could be. Instead of keeping quiet and playing the game he wrestled away creative control for himself. He won his artistic freedom, but he lost his golden ticket to fame. Tossed back down to the bottom of the pile, the next seven years were spent on spirit-crushing tours as he struggled to make his way and support his family. Frustrated, veering off the rails and about to give up on it all, he poured his anguish into those battle-worn songs. The album's title couldn't have been clearer: these songs were forged in his struggles.
A top ten album and a sold-out worldwide tour later, Written In Scars had made him a star. So what was his story now?
"We'd been touring and everybody around me was like, 'Let's get another one, this is working – Do you have anything to say?'" recalls Savoretti. "I kind of panicked. I thought, 'I'm not sure. I've been too busy touring and working to think about it.' You have this illusion that as a musician on tour you'll be writing on the tourbus, writing in your hotel room… fuck that. The last thing you want to do is write because you don't have time. I used to get really disappointed because I was coming back with nothing so I decided, 'I'm not going to even think about writing. Just lock it up, bottle it all up.' So when I got back I was literally knocking on the doors of all my friends' studios going, 'Somebody let me in!!!'"
With music practically bursting out of him, Savoretti set himself a rule that each song would be written, recorded and completed from scratch in one single day. "I wanted to capture how you sing a song for the first time," he recalls. "It's really hard to replicate, you can never beat that performance. It might not be pitch perfect but there will be something in it the connects."
Stick Sleep No More on your stereo and that edict seems even more preposterous. How on earth could a song like Troubled Souls' propulsive soul-bearing or the surging atmospherics of Deep Waters have gone from inception to completion in roughly the same amount of time it takes to complete a couple of spreadsheets, go to the gym and pick up a few bits for tea?
P.T.O.
"Was it incredibly difficult?" he thinks before letting out a rasping chuckle. "No it's actually lazy. I'm not a perfectionist. On the contrary, I'm like 'No, that's great! Let's go with this!'"
That intuition has paid off in spades. Sleep No More is even richer, more varied and emotionally affecting than its predecessor. Its musical waters are deeper, the palette broader and – even though its creator didn't realise it at the time – it has a story that rings just as true as Written In Scars' anguished tales.
"It's a love letter which I hadn't realised," notes Savoretti. "I listened to it the other day just me and a mate and he was like, 'Is everything OK?'… 'Yeah, I'm fine!' [laughs]"
That's not to say it's a love letter in the Clintons Cards, Cadbury's Roses sense. Sleep No More is an album about the very real struggles of holding on to love against the odds. About the trouble, the turmoil and the ultimate realisation that you can't fight the battles life throws you into on your own.
"It's the first album I've written as an adult… as somebody trying to be an adult at least!" laughs Savoretti. "It's no longer me against the world. Written in Scars was my final hurrah: 'It's me against the world, fuck you, we're doing it for ourselves'. This one isn't. It's a late-night conversation. It's 2 o'clock in the morning, by a fireplace, coming to realisations, insomniac ideas. It's the stuff that keeps you up at night."
Lead single When We Were Lovers is the perfect opening act. A dramatic snapshot of love as a tempestuous adventure. Maddening yes, but thrilling and perfectly captured in the song's stampeding rush. Before there's time to catch your breath we plunge straight into Deep Waters. One of many songs to show the increasing adventurousness of Savoretti and his band, it swirls around the listener, pulling you into its depths with shapeshifting waves of sound and shadowy guitar twangs. Savoretti may have started out as a lonely acoustic troubadour, relying on not much more than his songs and that singular, careworn growl, but this is an album with its viewfinder set to widescreen. Helpless's tessellating guitar lines and switching rhythms owe as much to Arcade Fire and Broken Bells as they do to the likes of Bob Dylan or Neil Young. The title track is a gorgeous cinematic sweep that draws from Savoretti's rich Italian heritage, both in its Morricone-like musical flourishes and the images of battlefields and emotionally exhausted last stands. Savoretti's paternal grandfather was a revered partisan who liberated Genoa from the fascists during World War Two, while his mother's father was a refugee who made his way through war-torn Europe to eventually raise a family in the UK. The singer concedes that hearing tales of his family's heroism growing up shaped the way in which he frames his own stories as a songwriter.
P.T.O.
"Not only does it come out in the song writing, it comes out in the man I want to be. These were men that fought in wars, that lost their own to save their families, did some amazing feats and succeeded as men. Created families, did their jobs, provided, were successful at what they did while having all this fucking baggage behind them. We have our issues, but these guys have some serious fucking issues. It's always an inspiration."
Thanks to the directness of Savoretti's writing and the universality of the truths he sings about, the themes on Sleep No More could apply as much to those in his grandfather's generation in the Italian mountains as they do to a father of two trying to make ends meet in West London in 2016.
"I thought, 'Maybe I should try and write an album for guys like me, what we're going through,'" he notes. "How it is hard being a dad, it's hard keeping a job, it's hard paying bills, it's hard not to turn into an alcoholic or a drug addict at the same time. It was kind of accumulating all that as a theme. The struggles of the modern man! [laughs]"
Savoretti may have not known it when they came pouring out of him, but each song is its own story that serves as a chapter in Sleep Now More's arc. Just as he knew the album had to open with When We Were Lovers, it was clear it had to finish on Lullaby Loving. Combining the dry lyrical wit of Leonard Cohen and the romantic poeticism of Mediterranean gypsy folk music, it begins by painting an image of himself as a wandering, roguish musician who is transformed by love, marriage and fatherhood; pleading as the song comes to a close "Don't give up on our love, don't give up on us…"
"This album is very much the acknowledgement that I'm still a mess, I'm still lost, I'm still against the wall, but you guys are here, and I really need it," thinks Savoretti. "It's a declaration: I need you guys, don't go anywhere just yet."
It turns out he did have a story to tell after all.